Check
here
for Legendary information. (Warning: You may pee yourself of excitement)
Also, here is some new information. This is all according to Serebii.
"Azelf is found in Route 23
10:35; Cedric Juniper gives the Super Rod
11:28; When you have finished the Unova Dex and speak to Professor Juniper, she gives you the license. Show this to the person at the Mistralton Airport and Skyla will take you via plane to somewhere off the map, the Nature Sanctuary
This place has grass containing non-Unovas such as Girafarig, rivers etc. but in the middle of it is a Level 60 Shiny Haxorus"
"Bianca gives Pokédex
Mum gives Running Shoes
Rival's sister gives Town Map
Routes go up to Route 23
Alder appears as you enter Route 20
15:31; Rival battle in Sangi Ranch. Just has his starter at Level 8
15:37; As before, we mentioned through Dengeki about having to hunt Herdier in Sangi Ranch. Turns out Team Plasma are the ones responsible for taking it. They give you TM21 and then flee
15:51; Alder has you battle two trainers in his house. Relatively simple. One has Pansage, the other Panpour
15:55; Cheren's Gym is literally a battlefield behind the school. Two trainers to fight before him
16:00 Coutesy of bluesun:
Courtesy of bluesun. Memory Link:
The trio gathered: In the Striaton City Restaurant, listen to Cilan, Cress & Chili's emotions.
Respective Bones and Dreams: At the NacreneCity Museum, listen to what Bone Specialist Lenora has to say.
Searching Hearts: At a certain building with a frozen floor in Icirrus City, Brycen awaits.
A New Light: After entering the palace, Drayden is thinking of the past at Opelucid City.
Pursuing the High Sense!!: After arriving at Yamaji Town, in front of the Mistralton City Gym, Skyla wants to talk about her worries to someone.
White And Black: After you first enter the Pokemon World Tournament, at a certain EX-Team Plasma member's house in Driftveil City, a certain somebody has arrived...
Goodbye, my loved Star: The ownder of the Musical in Nimbasa City is reminiscing.
Meeting and parting with friends: At a Pokemon Center, a Breeder is thinking about Pokemon.
16:03; Cheren's Gym done. If you haven't seen the rosters yet, click here
16;14; As soon as you enter Virbank City, you see Roxie and her father arguing as per the CoroCoro shots last month
16:19; In Roxie's Gym, you have to battle the Band Members first before she'll fight you
16:27; Unova Pokédex Page is being constantly updated
16:34; Pokéwood has two buildings. One to film the movies, and the other to watch it. As we know, you're forced to watch and then make one before progressing with the narrative
16:51; Rival, Roxie and you face off against Team Plasma at Virbank's docks. Once you've defeated them, they'll run to Route 20 but Roxie gives you TM01. Defeat them in Route 20, and return to Virbank. Roxie's father will take you and your rival to Castelia on his boat
16:53; You get given the Bicycle by a clown as soon as you enter the main part of Castelia
Here are some more links to totally awesome B/W 2 info. Jeez i am just so excited for this. Lucky Japanese people get to play it now.
http://www.serebii.net/black2white2/interact.shtml
http://www.serebii.net/black2white2/exclusives.shtml
http://www.serebii.net/black2white2/formchange.shtml
http://www.serebii.net/black2white2/dreamworldareas.shtml
http://www.serebii.net/black2white2/newitems.shtml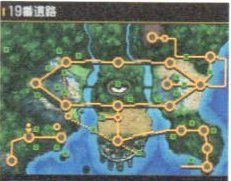 For even more, check
Serebii.net
Webmaster





Posts

: 203


Join date

: 2012-02-23


Age

: 20


Location

: USA



Lol I already beat the game it's fucking badass ;D
_________________
Sceptichomp wrote:Lol I already beat the game it's fucking badass ;D
Did you import from japan or somehow find a rom?
Webmaster





Posts

: 203


Join date

: 2012-02-23


Age

: 20


Location

: USA



[quote="Feranitar"]
Sceptichomp wrote:Lol I already beat the game it's fucking badass ;D
Imported white 2 from japan
_________________

---
Permissions in this forum:
You
cannot
reply to topics in this forum